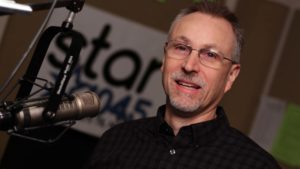 Kurt Owens
Kurt has been a part of Star 104.5 since its beginning in the late 90s. Not only does he get to play great variety of music from the 80s, 90s and now every afternoon from 2 to 7, but as Program Director he also gets to work with the entire Star 104.5 staff. Over the years, Kurt has done just about every job at a radio station from being an overnight jock who took out the trash, to writing and producing award winning commercials.
Originally from north central Iowa, Kurt has lived in Omaha for over 30 years and now calls Omaha his home.  His wife is a scrappy "South O" native and kids attended Papillion/La Vista and Millard schools.  He currently makes his home in Millard is always up for a few beers with neighbors around the fire pit.
He is most proud of the impact Star 104.5 has had on the community with support of many worthwhile organizations including The March of Dimes, American Heart Association, Komen Nebraska and especially the Adopt a Family program for the Salvation Army.  Kurt and mentor Tom Land helped to create that program in 2000.
In his spare time Kurt runs whenever possible to stay reasonable fit.  Because he doesn't like heat, cold or wind most of the miles are logged on a treadmill, but he occasionally runs in area 5k events.  The last few years he has completed the Claussen Leahy Run and the Komen Race for the Cure among others.  To counter all that fitness he also enjoys an occasional glass of red wine or Kentucky bourbon.
Call weekdays between 2:00 PM and 7:00 PM:  402-951-1045
Email:  Kurt@104star.com
Twitter:  @Kurtowens