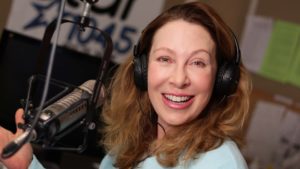 Cheryl Kaye
Cheryl Kaye is happy to be with you as you go about your workday from 9 a.m. to 2 p.m.  Her motto is "We're in this workday together.  Even if your printer jams, or your boss hands you a proposal that needs to be done by the end of the day, I promise to play the music that will power you through!"
The noon hour is her favorite because YOU get to choose the music with the THE POP UP LUNCH.   Cheryl will give you a theme for the Pop Up Lunch every morning around 10:15 and your job is to think of one of your favorite songs that fits the theme.  Call Cheryl Kaye 402-951-1045 and she'll play it for you.  You can also send her an email if it's easier: Cheryl@104star.com.
About Cheryl?  Like so many women, she finds single after years of being married.  So, she found a 120 pound rescue dog to take up what was "his" side of the bed.  "You do what you've gotta do!" she says!
According to Cheryl Kaye, she loves "dogs, cats, horses, chocolate, cycling, hiking and cooking,"   and she says her dream is to "marry a billionaire, preferably with one foot in the grave."
Cheryl Kaye, we get it.  It's important to have dreams.
Call her at 402-951-1045