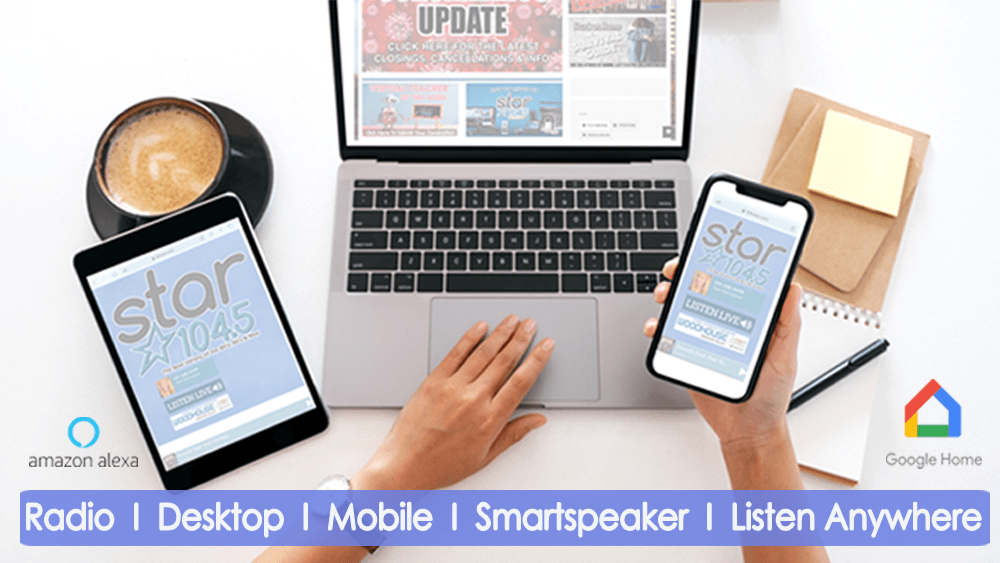 There are many ways you can enjoy Star 104.5, at home, in your car, or on the go…
Radio
Tune to 104.5 FM on a home radio, in your car, or at work.
Online
Listen online to STAR 104.5 at 104Star.com on either your desktop/laptop computer or using your mobile device.
TuneIn
Search for "STAR 104.5" on the TuneIn app on your mobile device. TuneIn has both free and paid app options available.
Smart Speaker

Amazon Echo: Say "Alexa, enable STAR 104.5" to enable the station skill. After that, you can say "Alexa, open STAR 104.5" to listen.
Google Home: Say "OK Google, play STAR 104.5." or "Hey Google, play STAR 104.5."
Apple HomePod: The Apple HomePod does not yet have built-in capabilities to listen to STAR 104.5. To listen on your Apple HomePod, download the free TuneIn iOS app, tap the AirPlay button, and select your HomePod.