Hall of Heroes @ The Durham Museum
January 28 @ 10:00 am

-

April 16 @ 4:00 pm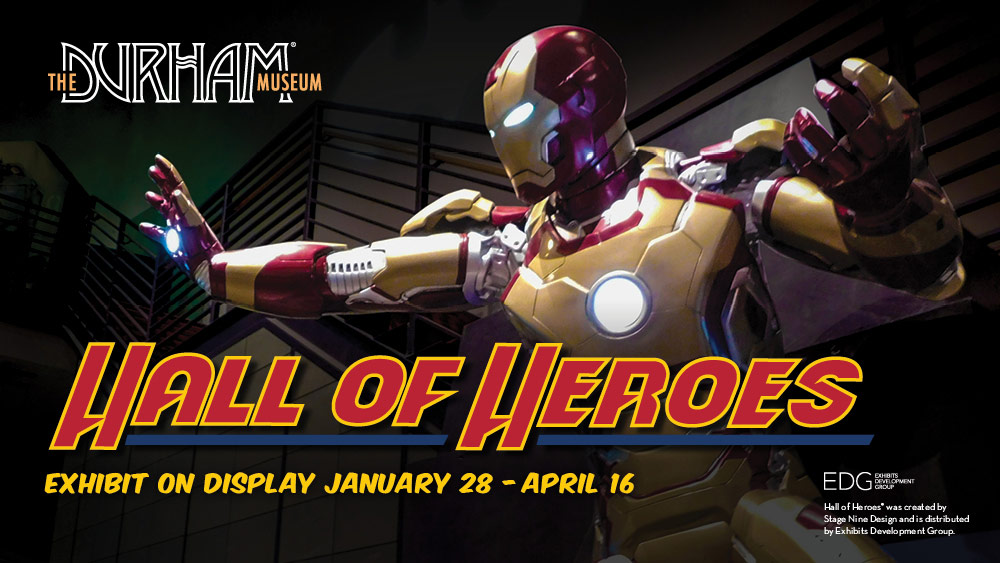 The Durham Museum is unmasking its first exhibition of the 2023 calendar year with Hall of Heroes. This popular traveling exhibition celebrates and explores both the history and science behind America's fascination with superheroes and how they impacted our popular culture throughout the 20th century and beyond. Visitors of all ages are encouraged to explore, learn and test their heroic abilities at engaging and challenging interactive stations.
Ever wonder how your favorite super-powered characters were created? Hall of Heroes provides an immersive experience for visitors to understand the world of heroes, crime-fighters and gadgets. Their journey takes them through several themed environments with surprises around every corner. Visitors will explore the histories of heroes and the circumstances that created them, while discovering the ideals that make them the heroes that we know and love. Hall of Heroes includes:
Life-sized statues of the Incredible Hulk, Ironman, Batman, Wonder Woman, Black Panther and Superman (great for photo ops!).
A full-scale interactive recreation of the iconic 1960's Batmobile and Batcave, and a showcase of the various gadgets used in the television series.
Movie props, reproductions and rare artifacts from past and present major motion pictures and television shows.
CLICK HERE to purchase tickets.
Related Events