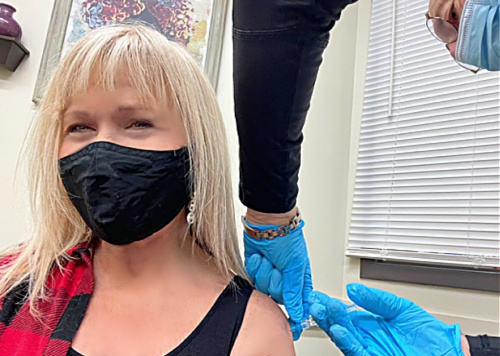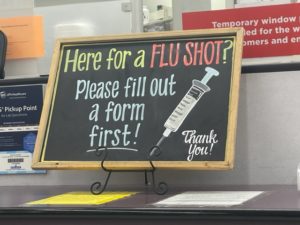 For the last 25 years , I have gotten a flu shot every fall.  I can honestly say I have never gotten the flu since then.  That's why last week I made an appointment at my local Hy-Vee pharmacy to get my shot.  I made an appointment online which makes the process so much easier.  You can also fill out your health forms online prior to your appointment which I did, but you can also fill them out when you arrive for your appointment.
Once I got to my local Hy-Vee pharmacy, I had about a 5 minute wait and I was taken back to get my flu shot.  Before I did though, I handed the pharmacy my Hy-Vee Fuel Saver Plus Perks card, because when you get your flu shot at Hy-Vee , you automatically get 20 cents on your Hy-Vee Fuel Saver Plus Perks card!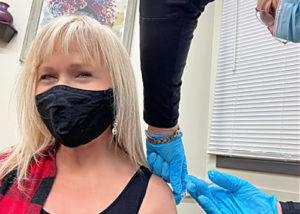 Hy-Vee's pharmacy is the perfect place to get your vaccinations, especially with Covid 19 and the flu , making a vaccine appointment avoids all the confusion and makes it so easy.  Hy-Vee also will give you a list of side effects and what to expect after your vaccinations so you are informed and if you have questions they are there to answer them for you too.
Right now because of so many people getting their flu and Covid vaccines, Hy-Vee is requiring everyone to make an appointment first.  It's easy  and makes the whole experience contactless too.  Go to Hy-Vee.com/my-pharmacy to make your appointment today! It takes just 5 to 10 minutes to complete.
Here's to staying healthy during the holidays and throughout the year! -Terri
More Reasons to use your Hy-Vee Pharmacy:
 Convenient early morning and evening hours.  Pharmacies are open to 7 AM to 9 PM on weeknights. 
 Hy-Vee accepts most insurance plans, including Medicare and Medicaid Free prescription delivery service to anywhere in the Omaha/Council Bluffs metro area
Friendly, knowledgeable staff available for questions about your prescriptions and over-the-counter medications.
Not sure what to take for that cold or those allergies?  Ask your Hy-Vee pharmacist what they recommend in over-the counter meds.
You can get vaccinations at your Hy-Vee pharmacy to prevent illness such as shingles, pneumonia and the flu.
The Hy-Vee Pharmacy offers convenience at your fingertips with:
Hy-Vee Mobile App to manage your prescriptions
Repeat Refills (Set your prescriptions up to automatically refill)
Phone, text or email notification when your prescription is ready for pick up
Thirty-day generic prescriptions are available for as low as $4 and 90-day supplies for as low as $10.
Here's to staying healthy during the holidays and throughout the year!