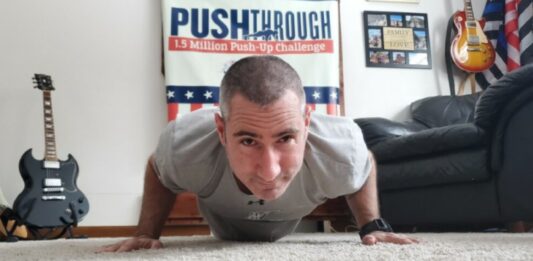 For one Wisconsin father of three, being 45 years old "and not getting any younger" hasn't stopped him from performing 3,000 pushups while competing in a marathon; dashing off 5,000 more during a 31-mile trail race, and (hopefully) scoring a new world record for completing a whopping 1.5 million-plus pushups over the course of a single year.
When social worker Nate Carroll launched his mission on June 14, 2020—Flag Day—his motivation was two-fold. First, he hoped to teach his children a lesson in the power of perseverance by offering them an example in real-time.
"[I wanted to] demonstrate to my kids what goals that seem impossible look like when they are broken down into daily manageable chunks," he said.
But in addition to being a positive role model for his children, Carroll was also committed to raising money for a cause in which he truly believes: the Tunnel to Towers Foundation, an organization dedicated to easing financial burdens for the families of fallen first responders.
With a full-time job and shared parental custody, finding the time during his busy schedule to clock thousands of push-ups per day was one of Carroll's biggest challenges.
"To set aside time to do 4,000 push-ups is impossible," he told the Wisconsin State Journal. "You have to really make it a priority and be willing to commit to it and embrace the fact that you have to weave that into your day."
On June 6th, Carroll completed the countdown to his record-breaking goal with a special 50-yard line halftime ceremony during the 48th annual Fun City Bowl at MetLife Stadium in East Rutherford, New Jersey.
"It was an honor to set a new world record here in New York in front of members of the [New York Police Department, New York Fire Department and Port Authority Police Department] and other first responders," Carroll said in a statement issued by the Tunnels to Towers Foundation. "I want this record to pay tribute to the sacrifice made by so many heroes that tragic day."
Read more about this inspirational story here!
(Photo courtesy of Tunnel of Towers Foundation)
Get the free Star 104.5 app! https://bit.ly/Star1045