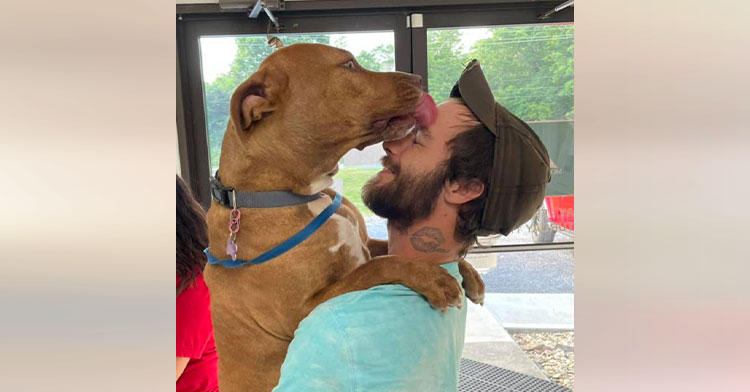 Aaron Morris of Waynesville, North Carolina, was running errands with his service dog one day when the unthinkable happened.
After finishing up at a gas station, Aaron drove across the street to Dollar General. He just needed to dash inside for a minute, so he left the car running to keep his beloved dog named Jolene comfortable in the air conditioning.
The dog dad also left his wallet, cellphone, and medication inside the car. To his dismay, when he came out of the store, his vehicle — and more importantly, his pup — were nowhere to be found.
Haywood County Sheriff's Office responded to the theft. Using security footage from the gas station, they discovered that the suspect was checking out Aaron's car there before following him across the street to the dollar store. Once Aaron went inside, they stole his car and everything in it.
Determined to bring Jolene home, the police called upon the public for help.
While the authorities tried to locate Aaron's belongings, he was having a difficult time. Aaron struggles with his mental health, and Jolene and his medication are important parts of his treatment plan. With both missing, he was having a hard time coping. His sister, Ashley Adevai, said her brother couldn't eat or sleep while Jolene was missing.
"It's life and death for my brother, he's talking not normal," Ashley said. "I'm very worried about him if the dog does not come back."
Thankfully, a few days later, someone found Jolene wandering by the side of the road in Morristown, Tennessee. They brought her to Morristown Hamblen Humane Society, but when her rescuers called the number on her name tag, there was no answer because Aaron's cellphone had been stolen, too.
That's when social media came through yet again! The Humane Society shared Jolene's picture on Facebook, and the internet quickly worked its magic.
Aaron was overjoyed when he learned that Jolene was in good hands! He immediately arranged to get a ride to the shelter for the sweetest reunion ever.
As soon as Jolene saw him, she ran into his arms, her tail wagging furiously. She couldn't wait to give him kisses!
Read more about this sweet story here!
(Photo courtesy of Morristown Hamblen Humane Society)
Get the free Star 104.5 app! https://bit.ly/Star1045