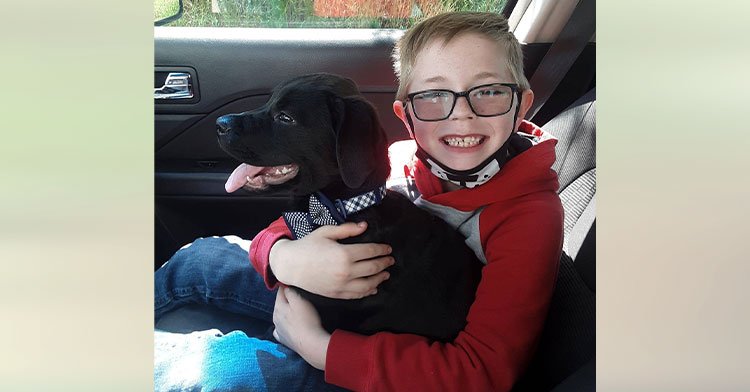 Kimberly Woodruff, a mom of three, was at school when a friend texted her a photo taken outside her house in Lebanon, Virginia.
The photo was equal parts sweet and heartbreaking. It showed her 8-year-old son, Bryson Kliemann, seated next to a board with spray-painted lettering that read, "4 Sale Pokemon."
The mom knew what her son was up to, and it moved her deeply. Bryson was attempting to sell one of his most prized possessions, a collection of Pokémon cards that he'd been gathering for years, in order to raise money for his sick puppy named Bruce.
Days earlier, the family had noticed that Bruce was acting strangely and was rapidly losing weight. "He wasn't coming out of his cage and being the normal puppy he usually is," Kimberly said. "He was very lethargic, just not doing good."
She brought him to Southwest Virginia Veterinary Services, where he was diagnosed with parvo, a highly contagious virus in dogs. Treatment for the illness costs about $700, which was way out of the family's budget.
Bryson was devastated by the news, so without asking his parents, he decided to take matters into his own hands by selling the one thing he could.
"I know everybody likes Pokémon cards so I just decided to sell them," Bryson explained.
When Kimberly saw the picture of her son on the side of the road, she knew she needed help to make his wish come true. She shared the photo online and, at the urging of her friends, started a GoFundMe in hopes of raising $800. Once word got out about Bryson's selfless act, the donations started pouring in! They have collected more than $12,000 and counting!
Thanks to the donations, Bruce was able to get treatment and was released a week later. He's regaining strength every day and should make a full recovery!
Kimberly said they plan to use the extra money to buy Bruce some new toys, but the bulk of it will be left with the veterinary practice to help other pet owners who are caught in a financial bind. This little boy just continues to think of the needs of others!
Read more about this heartwarming story here!
(Photo courtesy of Kimberly Woodruff)
Get the free Star 104.5 app! https://bit.ly/Star1045