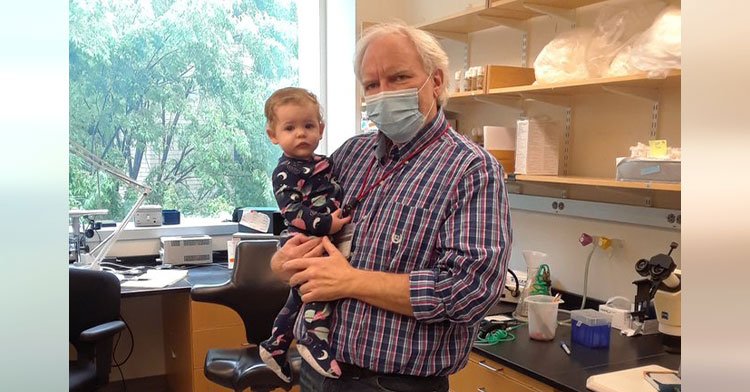 When Karen Cunningham was researching graduate programs, she knew she needed to find a school that would support her goal of having a baby while continuing her education.
She chose Massachusetts Institute of Technology in Cambridge, largely because of the positive response she got from their biology department.
Ten months ago, Karen welcomed a baby girl named Katie into the world. The new mom is now back to studying synopses in an MIT research laboratory, which is run by a professor of neuroscience named Troy Littleton.
While Karen's husband usually watches Katie, from time to time, she has to bring her baby to work with her.
The first day Karen brought her little one over, Troy showed her what he'd done to welcome Katie to the lab, and the mom couldn't believe her eyes! In his office was a portable travel crib wedged between his desk and a cabinet.
It became the perfect place for Karen to set Katie down for a bit while she's checking something off her list. Katie even took a nap there on her very first day, while her mom worked in the lab next door with a baby monitor by her side.
Troy told Good Morning America that he had the idea to put the crib in his office because he knows how challenging it can be to attend graduate school as a parent.
"Usually in non-pandemic times we always have baby showers for expectant mothers and fathers where we give them gifts, and we weren't able to do that with Karen because of the pandemic, so this was sort of the lab gift for Karen, 10 months later," he said.
Troy and the other graduate students in the lab pooled their money to buy the crib. The compassionate professor later tweeted a photo of the gift in his office, and it instantly went viral.
"The tweet came from just being delighted to be able to see Katie for the first time and to have the opportunity on occasion, when Karen wants to bring her in, to be able to play with her a little bit," Troy said. "That was the genesis of the tweet, not from any idea it was going to create this large discussion about the challenges mothers face in the workplace."
Read more about this heartwarming story here!
(Photo courtesy of Troy Littleton Twitter)
Get the free Star 104.5 app! https://bit.ly/Star1045