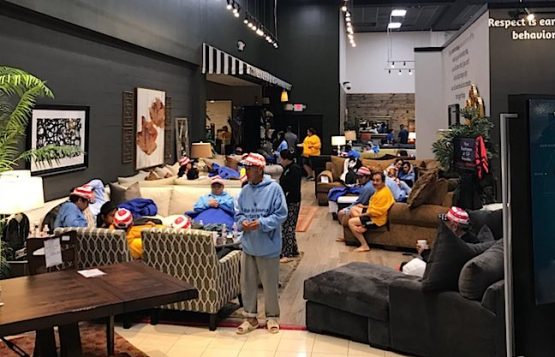 Texas has seen more than its fair share of weather-related calamities. When this winter's storm, Uri, took out the power grid, leaving the state in shambles, one valiant businessman stepped up to make sure his Houston neighbors would have a place to shelter from the cold.
Over the course of a 72-hour period, Jim "Mattress Mack" McIngvale opened two of his Gallery Furniture locations as impromptu warming stations. According to the store's website, Mattress Mack and his crew provided 3,000-plus meals and overnight accommodations to more than 700 members of the Houston community.
But this isn't Mattress Mack's first storm-related rodeo. In 2005, the Lone Star paladin welcomed refugees from Hurricane Katrina, and in 2017, he gave shelter to victims of Hurricane Harvey.
When tropical storm Imelda hit in 2019, once again, McIngvale made sure Furniture Gallery's doors were open for those in need. With the onset of Uri, he took to social media, inviting anyone who needed to, to come on down.
While the store had a diesel-run generator to provide electricity, with only a single functional water pipe, plumbing became a critical issue. Ensuring COVID-19 protocols were followed added another layer of complexity to the situation.
McIngvale and his staff rose to the occasion, rigging a solution to meet the plumbing demand, and also ensuring that once visitors were wearing masks, they observed proper social distancing before settling in to fill up on warm meals, watch some TV, and get some much-needed rest.
"Obviously there's a lot of angst among the community coming in here. They're shellshocked. They've been home for days in the cold with no electricity, no heat, no water, no plumbing," McIngvale told The Washington Post. "The logistics are a little hard, but we're making it work. The main thing is to get people out of the cold."
Much of the expense for his neighbors' care comes out of McIngvale's own pocket, but to him, that's how it should be. "To whom much has been given, much is expected," McIngvale told The Post. "We've benefited from public support over the years, so it's our obligation to open our doors and let people come in to get a respite from the storm. It's the right thing to do."
For anyone who'd like to help an angel out, McIngvale has set up a GoFundMe campaign to help alleviate the ongoing storm-related impact on his community.
Read more about this inspiring story here!
(Photo courtesy of Gallery Furniture Houston)
Get the free Star 104.5 app! https://bit.ly/Star1045