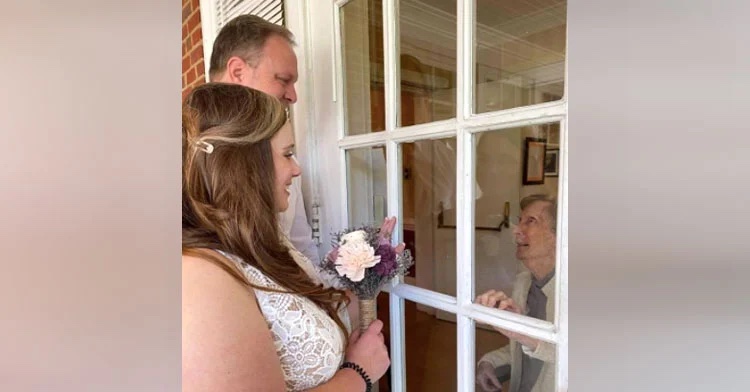 Coming up with creative solutions to novel coronavirus restrictions has become part of "the new normal."
One pair of newlyweds from Richmond, Virginia, want to tell the world that when it comes to celebrating safely, where there's a will there's a way!
When Harvey Sydnor and Virginia Whitlock got engaged in August 2019, they had no way of knowing their big day would be so difficult to pull off the following October. They planned a large affair with all their loved ones, but due to COVID-19 restrictions, they were forced to scale their celebration back.
One big change was that the bride's grandmother, who has dementia and is in assisted living at Winsor Senior Center, wouldn't be able to attend at all. It was simply too risky with her poor health. They went ahead and tied the knot in the rain on October 11, but they were still determined to include Virginia's grandmother somehow.
Not long after, they did just that! The senior center's activities director worked with the bride and groom to hold a second "mock" wedding on the home's front porch just for their grandma! Afterward, they were able to speak through a window. It was clear that she was beyond thrilled to see her granddaughter get married, even if it was a redo!
Read more about this touching story here!
(Photo courtesy of Harvey Sydnor Facebook)
Download our new Star 104.5 app here!