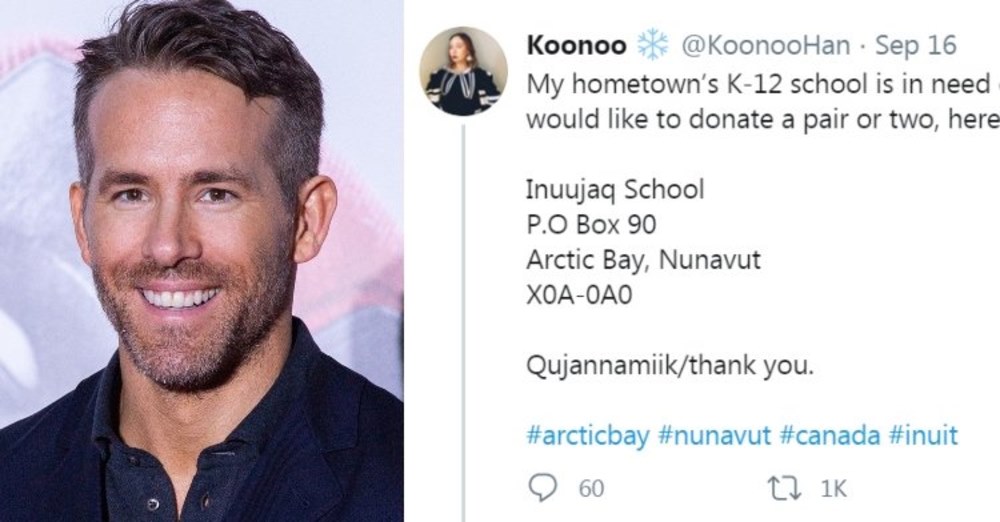 About 40 percent of Indigenous children in Canada live in poverty. As such, many of them can't afford necessary school supplies or even warm outerwear for winter.
Fortunately, there's no shortage of generosity among their neighbors! In August, Iqaluit Deputy Mayor Janet Brewster put out a call for school supplies for Nunavut students online — and the response was amazing! Inspired, Inuk singer-songwriter Becky Han did the same thing the next month, this time asking for winter gear donations
Becky focused her efforts on the Inuujaq School, her hometown school in Arctic Bay on Baffin Island.While their students had enough school supplies, too many of them didn't have proper boots, parkas, or snow pants.
Becky asked for donations in a tweet, but she never imagined the reach — or impact — it would have!Her call for help got so many retweets that it ended up catching the attention of Ryan Reynolds!
The Canadian-American actor reached out to Becky, who put him in touch with the school's principal, Gregg Durrant.
After he was filled in on the students' needs, Reynolds, a friend of Canada Goose, contacted the brand, which agreed to send the school 300 parkas in addition to snow pants, boots, hats, and mittens
When everything finally arrived, 329 students were brought to the school's gym, which was filled with donations — and smiles.
Read more about this wonderful story here!
Download our "Star 104.5" app here!