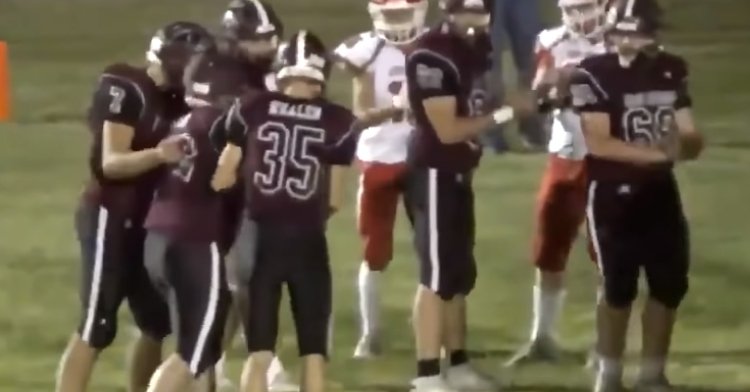 Brady Sprik of Platte, South Dakota, has spent the last three years defying the odds and inspiring everyone around him
In one moment, the high school athlete's life changed forever, but he never lost his zest for life. The determination that drove him to score touchdowns helped him reach seemingly impossible milestones — including leading his team to victory once again!
In October 2017, a serious car crash left Brady paralyzed. Still, he was determined to get back on his feet. Following a surgery that fused six of his vertebrae together, he couldn't move at all from the chest down. But eight weeks later, he wiggled a toe. A month after that, he moved a leg! His progress has been incredible, to say the least. Now, the high school senior has a special device that helps him take assisted steps
While Brady has accepted his new reality, one thing he wished he could change was to relive his glory days on Platte-Geddes High School's football field. So, this October, Brady's coach, teammates, and even rivals joined forces to make it happen!
Before the school's game against Gregory on October 9, Platte-Geddes coach Bruce Hanson worked out the details with John King, the opposing team's coach. Bruce would call a timeout, then John would tell his players to stand by as Brady joined them on the fieldQuarterback Kelby VanDerWerff handed the ball over to Brady after he stood out of his wheelchair, then stood on one side as his teammate, Nate Whalen, stood on the other. Step by step, the pair helped Brady reach the end zone — where he scored the winning touchdown! Both teams clapped and cheered him on, making this one of the best moments of Brady's life.
"It's what (Brady) needed to reassure him that people still care and haven't forgotten about him and what he's going through," his mom, Kristina, said. "It was the boost that he needed."
(Photo courtesy of Brady Sprik Facebook)
"Stack Our Stars" and win $100,000~  Get all the details here!