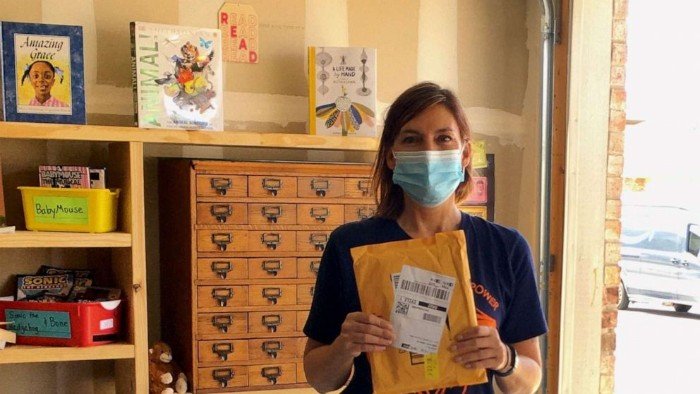 Jennifer Martin, a third-grade teacher in Austin, Texas, lives in a neighborhood where about 40 percent of her school's students live. Unfortunately, the area happens to be about 15 miles away from the nearest public library.
Since 15 miles is a bit of a trek, Jennifer and her dad came up with a way for the kids to have easier access to books. Their solution? Setting up a small library of their own in their shared garage.
Jennifer has a serious passion for reading and libraries! Over the years, she's even traveled to several different countries to learn more about what they can do in a community.
She found out that libraries forge wonderful connections and provide an easy way for children to get excited about learning.
"It's so important to establish the joy of reading, and that's what you do when you have books in kids' hands and books available," she explained.
That's why she built up her garage library using her own books — and others that have been donated to her! She also made a habit of purchasing books for 50 cents each from a local store and taking in old copies that Gilbert Elementary School was going to recycle.
"I would just go in and see so many titles that I knew my kids wanted," she told GMA. "I don't need to go out to eat for fancy food. Instead, I can spend $20 and get dozens of books."
Her system clearly worked out because her little library has almost 2,000 titles! Kids in her neighborhood are allowed to check out two books at a time. Then, when they've finished reading them, they can come back and swap them out for two more. It's all based on the honor system!
Read more about this inspiring story here!
(Photo courtesy of Jennifer Martin/GMA)