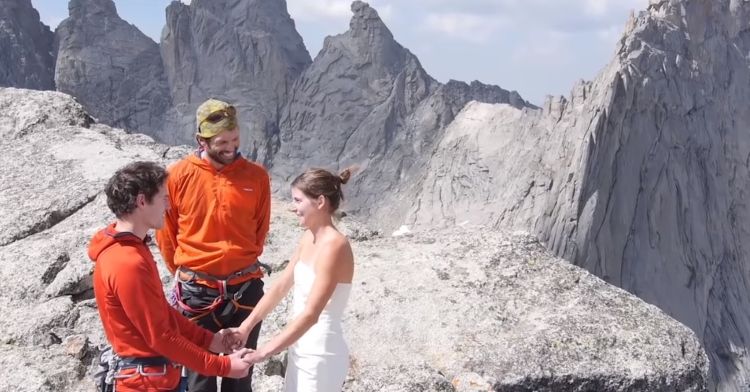 If Brian and Mandy Fabel had to describe their relationship in one word, they would call it an adventure.
Brought together by their passion for the outdoors, the lovebirds from Lander, Wyoming, are happiest when they're hiking, biking, or rock climbing. That's why they decided they would enjoy nothing more than combining all those activities into one journey to the (rocky altar in 2014.
They couldn't think of a better place to tie the knot than atop Pingora Peak, one of the granite points that form the Cirque of the Towers in the Wind River Mountains.
But instead of driving there, they set out on a three-part quest. They started with a casual 14-mile bike ride up Sinks Canyon, joined by Jamie, their friend who would officiate the wedding, and Kyle Duba, their videographer.
Following the bike ride was a 26-mile hike to the Cirque of the Towers, where an even bigger challenge awaited them.
By mile 20, Brian said he felt as if "my right leg was gonna fall off." Even so, he didn't stop. He and his bride had somewhere important to be!
Understandably, they were all exhausted by the time they reached their destination that evening. But just a few hours after getting into their sleeping bags, they were up again at 3 a.mArmed with headlamps and gear, they began the last leg of their trip, steadily climbing nearly 1,200 feet to the summit as the sun rose.
At 11 a.m., they finally reached the top! Then, after changing into her $8 wedding dress, Mandy exchanged vows with Brian.
(Photo courtesy of Mandy Fable Facebook)