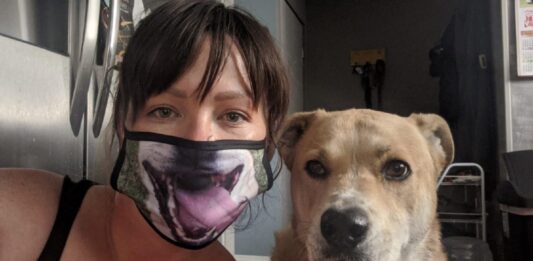 Animal owners can now wear face masks adorned with their pets' mouths. And the results? They're fun, sweet, and often hilarious.
Dogs And Dorks, an Etsy shop, will print a mask with the snout of your beloved dog or cat and has already sold 100 of the personalized items in just three weeks.
Danielle Schule, who owns the shop with her friend Denise Smandych, said she was inspired by her dog Ragley's crooked teeth.
The operations manager from Calgary, Canada, said, "I was staring at my computer and my Boston terrier smiled at me.
"I snapped a picture of him, his teeth are so gross and funny and I decided to put them on a mask."
The fun face coverings have proved popular and orders have flooded in. Delighted customers even send Danielle pictures of them wearing the masks beside their bemused pets.
"They make people laugh," Danielle said. "I have received a lot of requests because it makes it more fun for the kids to wear masks.
The masks cost $15 [$20CAD] and owners supply their favorite picture of their pet for Danielle to use.
She added that she hoped the amusing masks will make more people inclined to wear them.
Read more about this fun story and see some of these adorable masks here!
(Photo courtesy of SWNS)
Check out the latest Star 104.5 "Steals and Deals" here!