One of my favorite things to do on the weekend is make breakfast!  I don't have time to do it during the week , so it's really a luxury for me .  That's why I'm so excited about my local  Hy-Vee's 3-day Brand sale!  There are so many great savings and one of them is my favorite Hy-Vee brand eggs which are just 69 cents per dozen!!  Their Hy-Vee split top white and whole week bread is just 79 cents a loaf too!  Another perk is that I get 1 cent per gallon on my Hy-Vee Fuel Saver Plus Perks card too!
My favorite healthy breakfast are scrambled eggs with fresh spinach, mushroom and tomatoes all from my local Hy-Vee too!!  I first mix and cook the veggies together.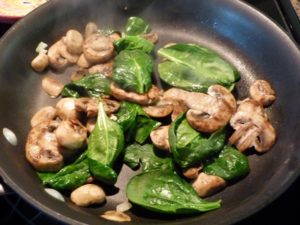 Then I add them to the eggs when they are halfway cooked in the pan. I use a little salt and pepper and top with a little butter.    It's quick and easy and delicious!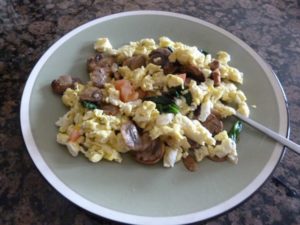 I also love a great presentation, with fruit, meats and fresh tomatoes!!  It looks almost too good to eat.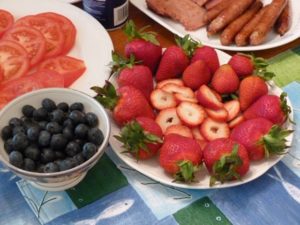 You local Hy-Vee's Seasons magazine also has great recipes and decoration ideas.  It's free every month in the store!!
So check out the Hy-Vee 3 -day brand sale, today August 20th through this Saturday August 22nd and stock up on your Hy-Vee brand favorites!!  The more you buy the more you save on gas too!
Find out more by following Hy-Vee on Facebook, Twitter and Instagram and in the Hy-Vee Aisles online app!
Click here to find out more too!  Bon Appetite! – Terri