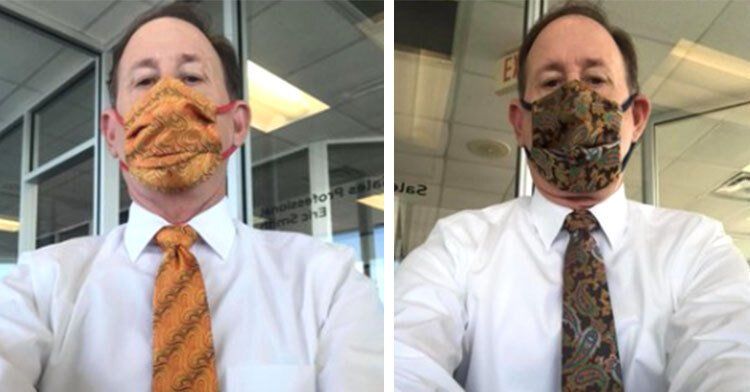 Like it or not, face masks are becoming commonplace in our society to help slow the spread of the novel coronavirus.
Many people are choosing to embrace this new trend, crafting fashionable masks to match just about any outfit. Kiana Montgomery's dad Steve is one of those matchy-matchy types who got in on the matching mask trend in a very big way
As a car salesman in San Antonio, Texas, Steve wears a nice shirt and tie to work every day of the week. When masks became necessary he enlisted the help of his girlfriend to turn the pocket squares that come with his ties into face masks. The result is a perfectly color-coordinated look that Kiana just had to share on Twitter.
To her astonishment, Kiana's post went viral with thousands of likes, retweets, and comments! She says she was shocked by how popular her dad's tie and mask combos were, but not nearly as surprised as Steve. One he learned he was a viral sensation online he totally embraced his newfound fame. Kiana was compelled to offer up even more pictures of Steve's coordinated work outfits.
Steve has 15 matching masks and ties combos. Now, this is how you make positive efforts during a pandemic!
Read more about this awesome story here!
(Photo courtesy Kiana Montgomery)
Check out our Star 104.5 "Steals and Deals" here!