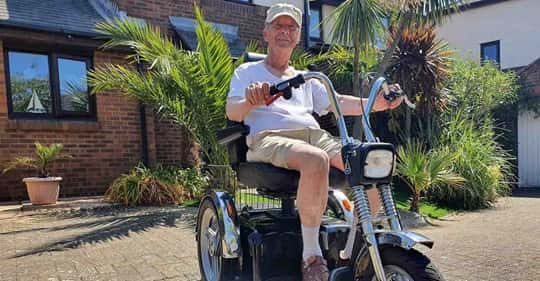 A 93-year-old veteran of World War II is enjoying his seaside town once again, now that he can get around on his new mobility scooter done up like a Harley Davidson.
Thomas Kemp, who had owned motorcycles since he was a teenager, had to give up riding on his beloved possessions due to his age, but now feels like he's back in the saddle again.
Mr. Kemp spotted the TGA Supersport while shopping in his hometown of Poole, and said the scooter reminded him of his favorite bikes, the 1000cc Ariel Square Four and the classic Triumph Thunderbird
Perfect for ex-bikers in their 70s, 80s, and 90s, the Harley-looking scooter with super-up handlebars has big wheels, a 30-mile range, and rugged black and chrome design.
Originally from Shoreditch in east London, he worked as a heavy plant engineer repairing farming equipment and cranes throughout the country and often traveled to jobs via motorbike.
"I may be 93, but my scooter makes me feel 43," he beamed.
He has no kids and no surviving relatives, but Kemp enjoys living life on his own. He says he's stayed pretty fit and his Supersport has given him an extra lease of life.
"My doctor always jokes that he can't believe there is nothing wrong with me at 93. I don't need glasses, don't use a walking stick and have a full head of hair.
Read more about this inspiring story here!
We have some great Star 104.5 "Steals and Deals."  Check them out here!