This afternoon I was invited to join the crew from Publishers Clearing House to award Joe J. from Omaha $1 million dollars!  We met up at a local florist who had a dozen roses ready and help inflate the PCH balloons!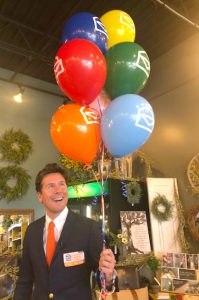 Our winner lived a few minutes away but when we got to his home , his wife, in curlers greeted us at the door.  Here's the first thing you need to know about Publisher's Clearing House, every thing is real.  The winners do not know ahead of time that they have won and they take a chance that the winner will even be home.
I promised Joe's wife that I would not publish the video or picture of her in curlers.  She was relieved but also in shock about the $1 million dollars her husband had just won.  Joe was at work at Mutual of Omaha , so we set off to surprise him at work.
After making arrangements with security and getting everything set up, Joe came down the elevator to his big surprise and winnings!!  He was shocked but happy and has been playing online at PCH.com for years.  His son's even tease him about it, but I doubt they will anymore!
Joe asked that we keep his last name anonymous and we completely understood.  It's a life changing amount of money.  Howie from PCH handed Joe a check for $25,000 as an initial payment and Joe will decide if he wants to take a lump sum of his winnings or have it payed to him over time.  After signing a few papers, he was $1 million richer!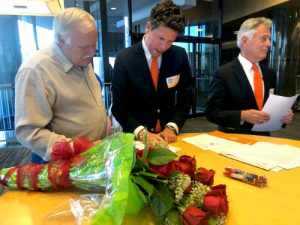 Whe I asked him what he was going to do with his winnings, he said have a nice dinner, take a vacation to someplace warm and perhaps even pay off his house. Joe and his wife have 3 sons and 6 grandchildren.  I have a feeling they will be doing some celebrating this weekend! – Terri