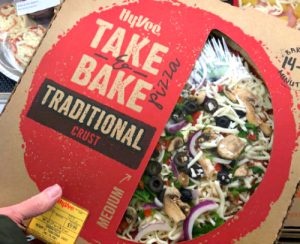 Anyone who knows me knows I love my pizza!  I could eat it 7 days a week, but love to treat myself a couple of times a month on Friday!  My go to is Hy-Vee's  Take and Bake with the traditional crust.  I love mine loaded with lots of veggies too!  The medium size is perfect for me but you can get a Take and Bake pizza in any size that fits your appetite!  If you don't want to wait they have some delicious pizza hot and ready for you too!
I just picked up my pizza for tonight, and a couple more for the Big Game on Sunday!  Hy-Vee also has the coolest cupcakes and cookies all decorated for game day, whichever team you're rooting for!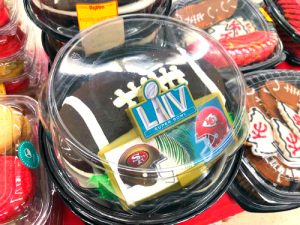 When you stop by Hy-Vee to stock up on everything you need for your Big Game get togethers, you'll find all of your game day munchies in one place at the Chiefs Kingdom set up at the front of the store! It super convenient and will save you time and money!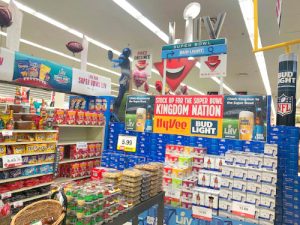 Make sure to stop by the Wine & Spirits shop to go with your wings, pizza and nachos!  The selection and prices are always great!
Here's to a great weekend of eating , football and fun!
#ad