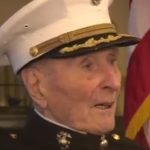 Major Bill White is a 104-year-old Marine veteran of WWII who earned a Purple Heart in the Battle of Iwo Jima in 1945.  He served in the Marines for 30 years.  He now lives in a retirement center and enjoys scrapbooking.  He would like to put together a scrapbook of Valentine's Day cards, and he's asking that anyone who feels compelled, please send him a Valentine's Day card that he can add to his memories.  Here is his address:
Operation Valentine ATTN: Hold for Major Bill White, USMC (Ret)
The Oaks at Inglewood, 6725 Inglewood Avenue, Stockton, CA 95207
Screenshot photo of video from Youtube/KETKnbc
The wedding event of the year is coming up Sunday at CHI Health Center.  For info on the Star 104.5 Bridal Fair, click here.